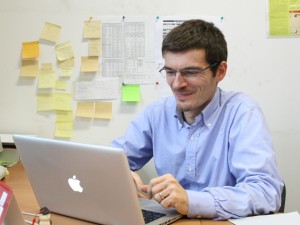 Nato a Sesto San Giovanni nel 1972, ha conseguito i titoli: laurea in Lettere Moderne, Master in Informatica per Umanisti, PhD in Società dell'Informazione. È attualmente ricercatore dell'area scientifico-disciplinare ING-INF/05 (Sistemi di elaborazione delle informazioni), presso il Dipartimento di Statistica e Metodi Quantitativi, Università degli Studi di Milano Bicocca. Dal 2008 è anche collaboratore del centro di ricerca CRISP.
La sua attività scientifica si è concentrata sin dal dottorato sullo sviluppo di modelli e tecniche di trattamento semantico delle informazioni, la creazione di ontologie, lo studio e l'applicazione di linguaggi del Semantic Web. La ricerca si è poi ampliata verso tematiche tra loro legate, i sistemi informativi per la gestione della conoscenza, i media sociali e la scienza dei servizi. Questi temi hanno trovato un campo di applicazione nei servizi e sistemi di gestione di dati della pubblica amministrazione. All'interno di questi stessi temi ha recentemente approfondito le problematiche legate alla qualità dei dati, in particolare metodologie e tecniche formali di messa in qualità di dati amministrativi.
---
Born in Sesto San Giovanni in 1972, he earned the following titles: Bachelor's degree in Modern Literature, Master in Computer Science for Humanists, PhD in Information Society. Currently he works as Researcher of the scientific areas ING-INF/05 (information processing systems), at the Department of Statistics and Quantitative Methods, University of Milano-Bicocca. Since 2008 he is also a collaborator of the research center CRISP.
His scientific work has focused since the doctorate on the development of models and techniques for semantic processing of information, the creation of ontologies, the study and application of languages ​​of the Semantic Web. The search was then extended to issues related to each other, information systems for knowledge management, social media and science services. These themes have found a scope of services and data management systems of public administration. Within these same topics recently studied the issues related to data quality, in particular methodologies and formal techniques of formal quality of administrative data.