All'interno del ciclo di seminari del Master in Business Intelligence e Big Data Analytics si terrà un incontro dal titolo
"Data Science: tecniche di trattamento dell'informazione ed esperienze professionali"
Venerdì 20 novembre 2015 – dalle 14:30 alle 16:30
Università degli Studi di Milano-Bicocca
Via Bicocca degli Arcimboldi 8, 20126 Milano
Edificio U6, I Piano, Aula 28 |  Mappa
Programma
Introduzione e coordinamento lavori
Mario Mezzanzanica | Direttore Scientifico del CRISP, Università di Milano-Bicocca
Information Extraction and User Profiling
Gabriella Pasi | Professore Ordinario Dipartimento di Informatica, Sistemistica e Comunicazione, Università Milano-Bicocca
So What Does a Data Scientist Actually Do?
Carlo Torniai | Head of Data Science and Analytics, Pirelli
Il Tema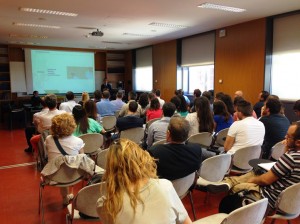 Questo seminario sarà un'occasione per approfondire alcuni aspetti della 'Data Science', attraverso l'incontro con due personalità che operano nell'ambito della ricerca universitaria e in una realtà aziendale di respiro internazionale. La Prof.ssa Gabriella Pasi, dell'Università Milano-Bicocca, affronterà il tema del trattamento dei dati, presentando tecniche di Information Extraction e di User Profiling, frutto del lavoro di ricerca svolto all'interno del Information Retrieval Laboratory. Il Dott. Carlo Torniai, Head of Data Science and Analytics in Pirelli con diversi anni di esperienza in realtà industriali internazionali, ci presenterà e ci farà conoscere la figura professionale del 'Data Scientist'.
Breve biografia dei relatori
Gabriella Pasi
Gabriella Pasi is Full Professor at University of Milano-Bicocca, Department of Informatics, Systems and Communication (DISCo). Since March 1, 2015. Since 2005 she leads the Information Retrieval Laboratory (IR LAB) in the same Department.She is actually working on various research topics, to the main aim of defining systems able to both learn user's preferences and to adapt to the user's context.
Carlo Torniai
Dr. Carlo Torniai is currently Head of Data Science and Analytics at Pirelli. Previously was a Staff Data Scientist at Tesla Motors.  He has years of experience in research and industry where he has worked on a wide range of topics such as: data modelling, knowledge representation, patter recognition, data analysis. He holds a Master in Telecommunication Engineering and a PhD in Informatics.
Informazioni
– Info: paolo.savino@unimib.it | Tel. 02.6448.2174
– www.bimasterbicocca.it | www.crisp-org.it